The Misaligned Cow: Pinball Tables for Your PC

NOTE: To play Future Pinball games, you will need a copy of the amazing FUTURE PINBALL, version 1.8 or higher. Go to Future Pinball and look in the downloads section for the Future Pinball installation files.
Heist for Future Pinball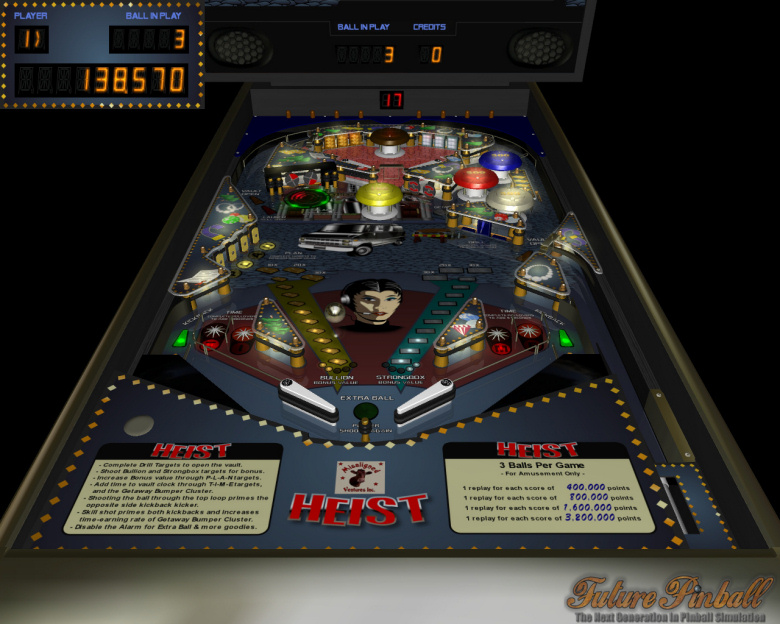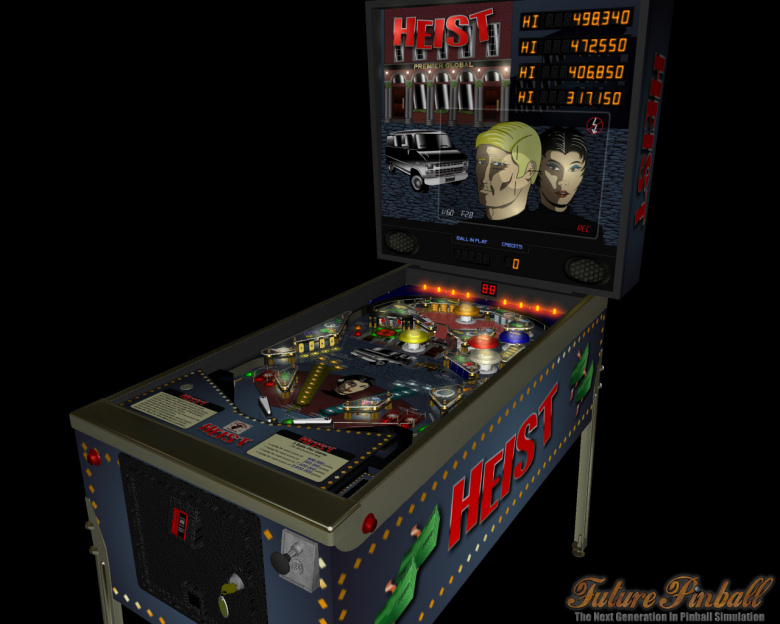 Features
Roto-target Alarm System
Vault playfield with countdown clock
Mystery strongbox bonus
User interface features: Fixed/scrolling camera, selectable auto-look-at-backbox
3 music themes
Operator menu
Gameplay
Shoot Drill Targets to open the Vault.
Shoot Bullion Targets and Strongbox Targets in the Vault to add bonus.
Shoot P-L-A-N targets to increase bonus value.
Get extra time in the Vault through the T-I-M-E rollovers.
Disable the Alarm for Extra Ball and loads more Vault time.
Tips & Tricks
Your score will get nowhere unless you get into that vault and get some loot!
When both kickbacks are primed and there's time on the clock but the vault is still closed, ignore the top loop shots -- concentrate on other targets instead.
The Alarm -- as well as an empty Drill Target Bank -- can provide nasty ball returns towards the centre drain.
There are two places where the ball will very occasionally come to a standstill: Near the top of the loop, and around the white pop bumper. Use one of the nudge keys to pry it loose. (One nudge should do it!)
You can end and reset a game in progress at any time using the power on/off (P) key. (Make sure that there is no ball left on the playfield before you turn power on again, otherwise you will get a NO BALL error during startup.)
---