The Misaligned Cow: Pinball Tables for Your PC

NOTE: To play Future Pinball games, you will need a copy of the amazing FUTURE PINBALL, version 1.8 or higher. Go to Future Pinball and look in the downloads section for the Future Pinball installation files.
Grandmaster for Future Pinball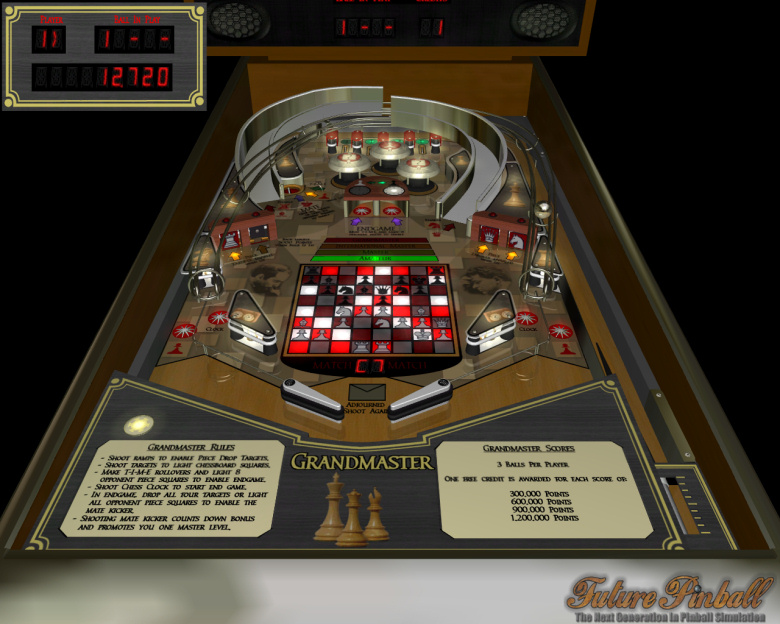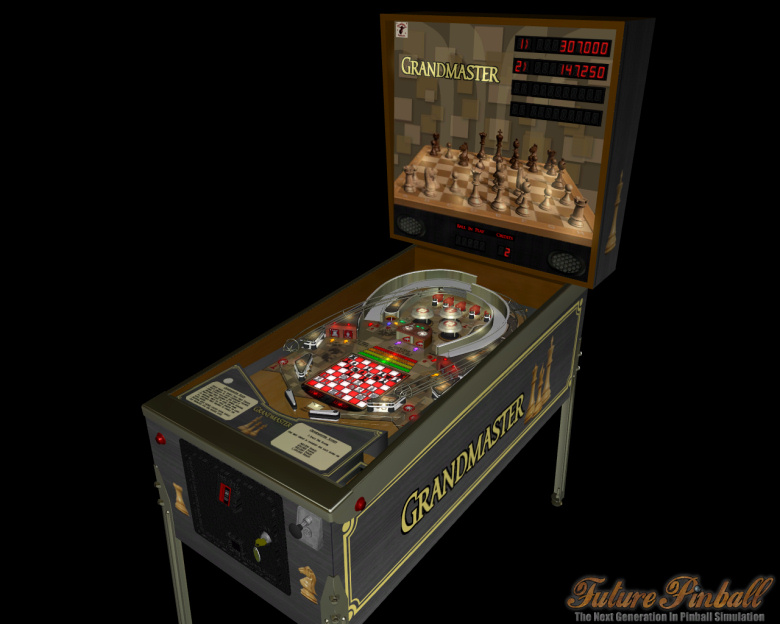 Features
Remake of Visual Pinball original of the same name.
64-light chessboard on playfield: Light squares to increase bonus and progress through the game from opening moves through endgame to checkmate..
"Working" chess clock decides what targets are available to the player at any one time.
Synthesized speech featuring both "announcer" and "commentator".
Full operator menu, including choice of:

Statistics display.
3- or 5-ball games.
Two play modes - "Standard" and "Blitz" (for the more impatient players).
Free credit score levels.
3 original music themes.
Gameplay
Shoot ramps to enable Piece Drop Targets.
Shoot targets to light chessboard squares.
Make T-I-M-E rollovers and light 8 opponent piece squares to enable endgame.
Shoot Chess Clock to start end game.
In endgame, drop all four targets or light all opponent piece squares to enable the mate kicker.
Shooting mate kicker counts down bonus and promotes you one master level.
Tips & Tricks
This playfield looks especially good in F2 view with fixed camera turned on.
Learn how to use the left flipper to get up to the T-I-M-E top lanes. Completing the T-I-M-E lights is essential for your progress!
When the Chess Clock endgame lights come on and you have Piece Targets enabled, try not to hit them before starting the endgame - to save yourself from having to enable them again before going for mate.
If you have the endgame lights flashing and are also very close to completing T-I-M-E a second time (to light the Adjourn light), note that it's easier to complete T-I-M-E before the endgame is started.
Known Bugs and To-Do Thingies
---