The Misaligned Cow: Pinball Tables for Your PC

NOTE: To play Visual Pinball games, you will need a copy of Randy Davis' amazing VISUAL PINBALL, Tech Beta 6.1 (TB6.1) or higher. Go to IRpinball and look in the downloads section for essential Visual Pinball files.
Grandmaster 2 for Visual Pinball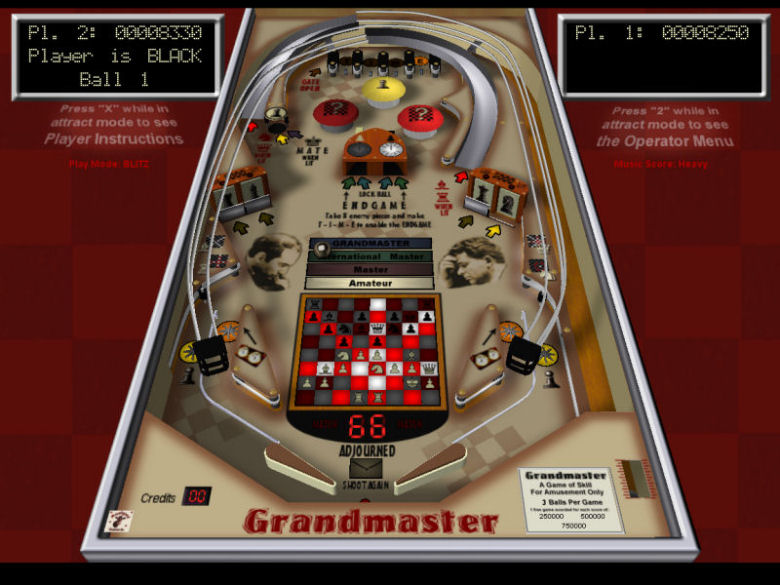 Download latest version

Current version is 2.00.

The music files included in the main package above are highly compressed. For a more enjoyable listening experience, you can download high-quality versions of each musical theme here:
Features
Sporting one of Misaligned's trademark uncluttered playfields and a strong plot element
Synthesized speech and sound effects
Music score - 9 original compositions just for Grandmaster 2
64-light chessboard
"Working" chess clock
Two 3x16 character Dot Matrix Displays (white-on-black)
Multiball mode with 3 balls
12-page printable manual in PDF format
Gameplay
Capture squares on the chess board to mate your opponent and move up one rank towards the coveted status of GRANDMASTER.
Known Bugs and To-Do Thingies
On very rare occasions, a ball may fall through a flipper. This is a Visual Pinball bug, which hopefully will be fixed some day...
Tips & Tricks
---